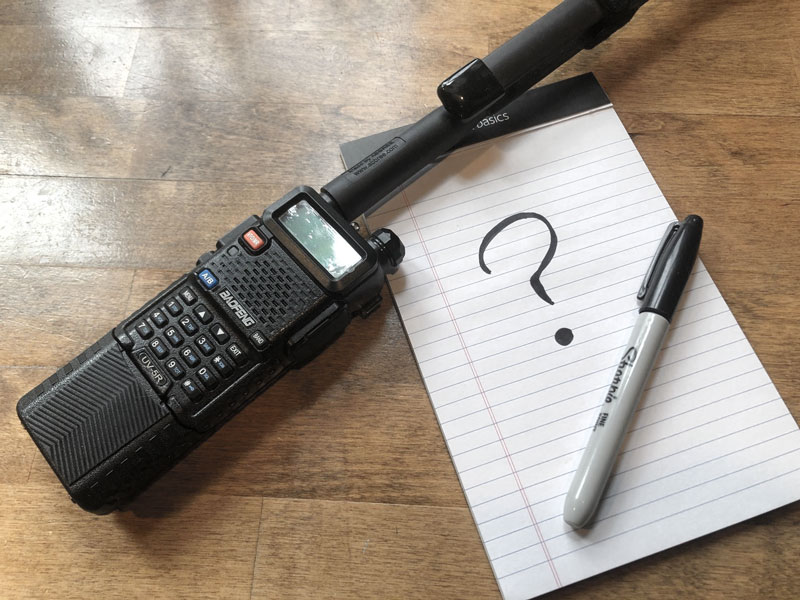 ABOUT THE INSTRUCTOR: SAM HAVEMAN
Sam found his love for radios while earning his pilots license in High School. He expanded his interest for all things "Comms" when assigned to a Ground Team with the Civil Air Patrol whose duties included finding Emergency Locator Beacons with Directional Radio. Since then, Sam has combined his love of communications with preparedness and has a passion passing that information on to others.
1-DAY CLASS | HAM RADIO: ZERO TO HERO
"The Baofeng UV5R and associated radios are the most common portable civilian HAM radio in existence. While common, many owners/users are not aware of how to properly utilize this platform to its utmost capabilities."
This course will give students the basic knowledge of radio communication and frequencies as a whole, and the knowledge, skills, and ability to be an end-user of the Baofeng UV5-R Handheld HAM family of radios and associated equipment.
Prerequisites:
No radio experience needed.
Course Gear Requirements:
PREFERRED A Baofeng UV5-R style handheld radio (Widely available and inexpensive)
– or –
POSSIBLE Handheld HAM radio not of the Baofeng Family of radios (bring the instruction manual to help troubleshooting)
Notepad and writing utensil.
Course Gear Recommendations:
Water and packed lunch / snacks for a full day class
A charged laptop with:
– CHIRP programming software installed (link here)
– An FTDI programming cable for radio of choice (Baofeng can be found here)
AVAILABLE CLASSES:
Saturday – September 9, 2023
9am – 6pm
Registration open for MDFI Alumni, click here.
Registration opens to the public on June 4 at noon.
$200 + $25 venue fee