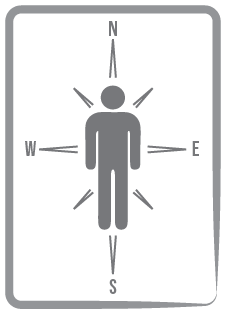 ABOUT THE INSTRUCTOR:
RODNEY UHLER
Rodney lives and breathes Land Navigation. Joining the US Army right out of High School, he completed his Basic Training, Advanced Individual Training, Ranger Indoctrination Training, and then became one of the original members of the newly-formed 3rd Ranger Battalion.
Living in a world where every member of the unit must know where they are on a map at all times, Rodney excelled at it, and proved this by earning the Merrill's Marauder Award in Ranger School based on his Land Navigation skills and peer evaluations.
After his time on Active Duty, Rodney joined the Michigan National Guard as Patrol Leader and Officer Candidate School Cadre, where he continued to pass on his knowledge of Land Navigation to others.
To date, Rodney still continues to enjoy using his Land Navigation skills on hunting trips where he and his hunting buddy go well-off the beaten trails to flush up grouse.
1-DAY CLASS | LAND NAVIGATION BASICS
In a world filled with electronic gizmos: specifically, cell phones and handheld GPS devices, the average American has gone from understanding how to properly orient themselves and read maps, to blindly following where the Google-machine tells them to go.
Being able to get to where you need to go without electronic assistance, and often times, getting out of where you are back to safety after suffering failure of electronic devices is a valuable skill for all people to have.
Land Navigation Basics will give you the skills to prepare, orient, and navigate any terrain you find yourself in.
Topics Covered:
– Learn how to read a Topographic Map
– Waterproofing Maps
– Learn how to use a Compass
– How to "shoot an azimuth"
– Learn how to use a Map and Compass together
– Pace Counts and Measuring Distance
– Practical Navigation Exercises
Prerequisites:
– No previous land navigation / orienteering training required.

– Physical Stamina Required (This class is Moderate to Intense in physical activity i.e. you do a LOT of
practical hiking exercises)
Course Gear Requirements:
– A Lensatic or Baseplate Compass
(If you do not currently own a Lensatic or Baseplate Compass, the Instructor recommends the Sun Company Prosight Map Compass HERE)

– Outdoor Clothing with long-sleeves/pants that you don't mind getting damaged/dirty (you will be "bushwhacking" during your land navigation exercises and not walking on trails.

– Broken in hiking boots/shoes with 2 pairs of socks (make sure it is not your first time wearing your footwear.)

– Water for a full day of outdoor activity
(a 100oz Camelback or similar way to carry water is recommended)

– A lanyard-worn whistle

– Note-taking material
Course Gear Recommendations:
– Eye Protection
– Sunscreen
– Bug Repellent
– Gloves
– Snacks/Food for an 8-hour class
– Small pack to carry any items you wish to bring with you.
AVAILABLE CLASSES
Saturday, Sept 7, 2024 – Baldwin, MI
Course Tuition: $200
(50% deposit due at registration, remaining due at class start)
SOLD OUT! Waitlist Available Here
---
Sunday, Sept 8, 2024 – Baldwin, MI
Course Tuition: $200
(50% deposit due at registration, remaining due at class start)
Registration Available Here